27 Mar 2022
Rochdale Hornets leave comeback too late in season opener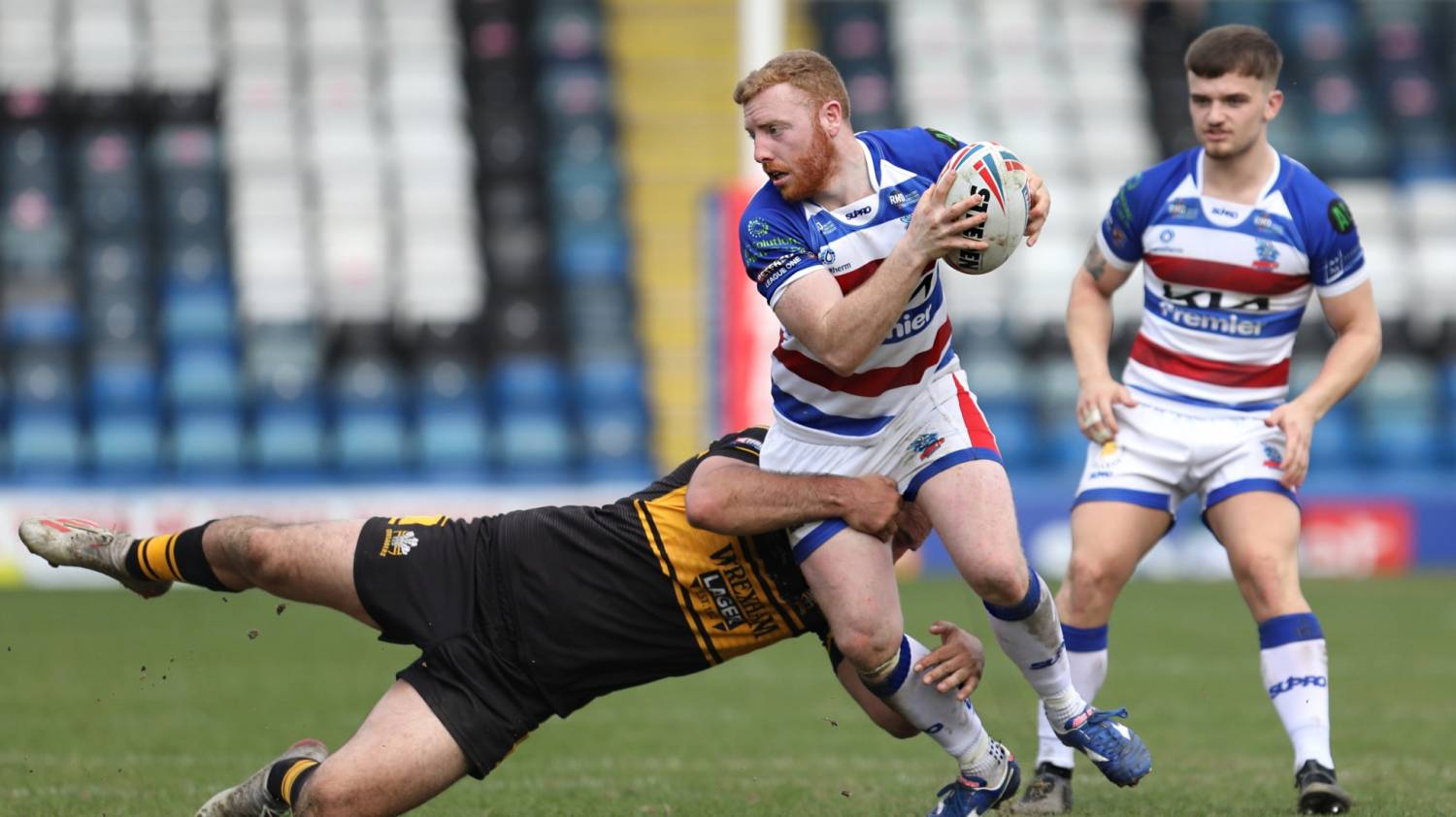 Rochdale Hornets suffered a narrow 34-36 loss to North Wales Crusaders in their opening game of the League 1 season at the Crown Oil Arena.
Hornets nearly produced a miracle comeback from 16 points down midway through the second half. This came after also being 18-0 down after just 20 minutes.
However, the comeback kings left simply too much to do.
A lack of discipline was Hornets issue early on as North Wales struck with an early penalty in front of the posts after just three minutes. Thomas Johnson knocking over the points.
Only three minutes later and Scott Turner powered his way over for a well-taken try in the corner for North Wales. Johnson converted from out wide to leave the score 8-0.
Another straightforward penalty on 10 minutes was knocked over by the reliable Johnson to extend the lead for North Wales to 10 points.
After 18 minutes, Turner grabbed his second try of the game with Johnson again adding the conversion from out wide.
Hornets finally changed the momentum of the game when Cian Tyrer pounced on a loose ball to sprint deep inside North Wales half. Another strong carry out wide from Ben Calland led to Hornets getting on the front foot.
On 32 minutes Hornets got their first score as the alert Aiden Roden dotted down following a goal line scramble. Lewis Sheridan added the straightforward extras.
Roden continued to be highly influential as he probed around the fringes. Another mazy run ended up in Sheridan capitalising on an inside ball which came off a North Wales hand running in for a try untouched. Sheridan, as usual, converted leaving the score 12-18.
The half-time whistle couldn't come quick enough for North Wales as a transformed Hornets went close right on the stroke of half-time to levelling the game. Greg McNally came within inches of the line.
North Wales went in 12-18 up at the break.
North Wales started the second half like the first and on 44 minutes Jack Holmes scored a try in the corner following sharp hands. Johnson again landed the difficult conversion leaving the score 12-24.
Four minutes later it was a carbon copy of a try for North Wales but this time saw Harry Swarbrick go over in the opposite corner. Johnson missed his first kick of the day leaving the score 12-28.
The fightback started again as Hornets responded instantly when Luke Fowden crashed over from short range on 53 minutes. Sheridan knocked over the extras reducing North Wales lead to 10 points.
Although it was North Wales who responded this time claiming a high ball and offloading to Gavin Rodden who sprinted clear for a converted try on 60 minutes.
The men from Rochdale don't go down without a fight and five minutes later Greg McNally turned provider with a brilliant pass to set up Tyrer. Sheridan missed the conversion but Hornets were high on confidence.
A yellow card for North Wales resulted in Rochdale taking advantage as Ben Forster forced his way over the line. Sheridan again added the extras. Leaving the score 28-34 with nine minutes left to win the game.
Shortly after on 74 minutes Sheridan looked to have completed the comeback as intercepted the ball and ran clear but the referee pulled play back for a penalty.
North Wales' Johnson then kicked a late penalty to leave the score 28-36 going into the final stages.
However, Fuifui Moimoi showed immense strength to get over the line to set up a grandstand finish with a minute to go. However, North Wales held on to win 34-36.
Hornets: McNally, Stewart, Calland, Nixon, Sheridan, Forshaw, Killan, Penkywicz, Moimoi, Marriott, Forster, Taira.
Substitutes: Roden, Bennion, Davis, Fowden.
Tries: Roden (32'), Sheridan (37'), Fowden (53'), Tyrer (65'), Forster (71'), Moimoi (80+').
Goals: Sheridan, 5/6.
North Wales Crusaders: Johnson, Ah Van, Swarbrick, Holmes, Turner, Gibson, Billborough, Barratt, Wood, Hazzard, Rodden, Sherratt, Fletcher.
Substitutes: Nash, Brennan, Houghton, Reid.
Tries: Turner (8') (20'), Holmes (44'), Swarbrick (49'), Rodden (62').
Goals: Johnson, 8/9.
Half-time: 12-18
Referee: Liam Rush
Featured image courtesy of JMSportPix.