SUPPORT THE HORNETS PLAYER DEVELOPMENT PROGRAMME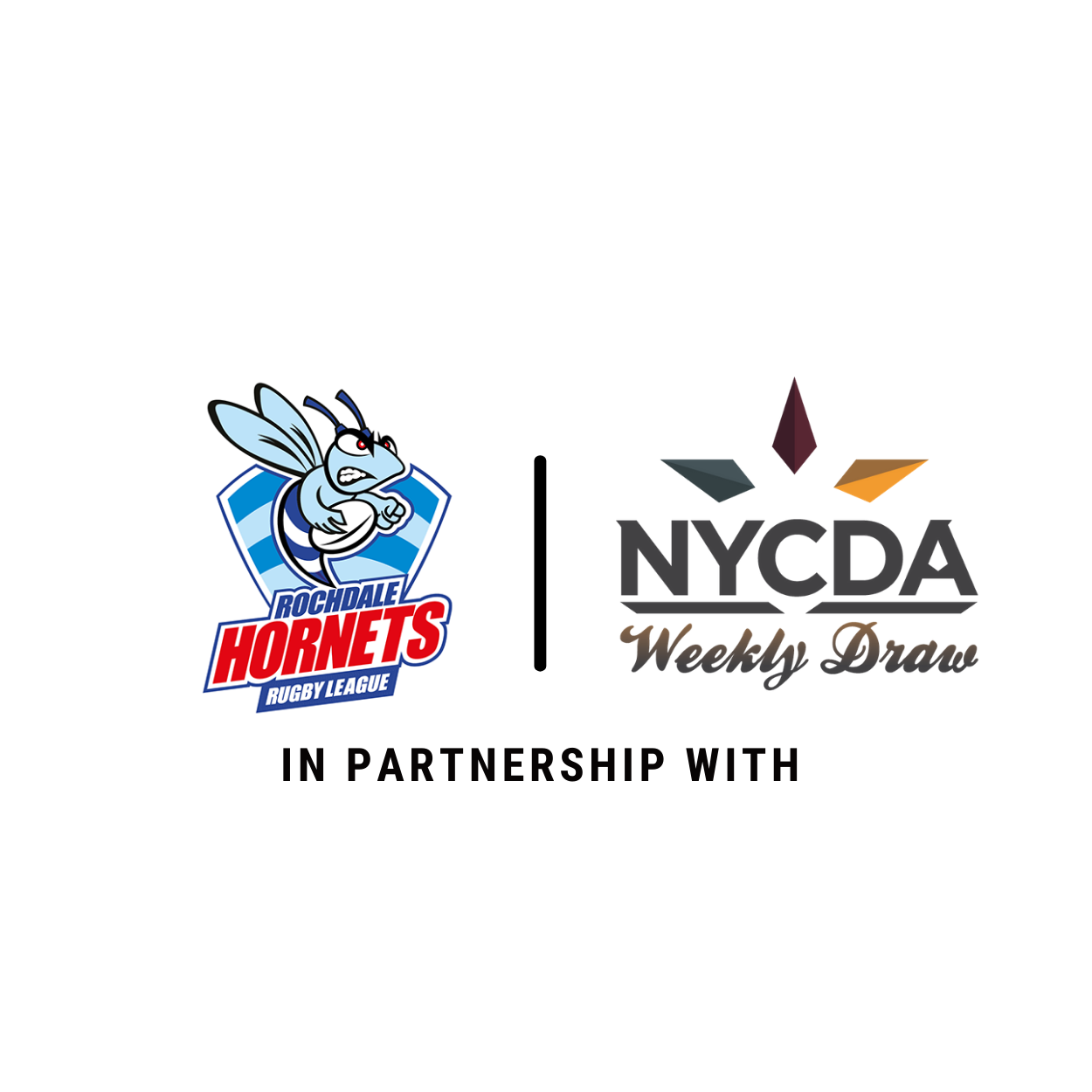 Rochdale Hornets in partnership with the NYCDA Weekly Draw
Support the Hornets Player Development Programme
As we look to a brighter future on the back of the easing of lockdown restrictions and a return to normality with the sport we love, the club is delighted to be looking to the future with its Official Lottery Partners at the National Youth & Community Development Association (NYCDA)

After reviewing this area of the club, we are delighted to build on the historic success of Buzzline with colleagues at the National Youth & Community Development Association (NYCDA), by participating in their NYCDA Weekly Draw as a beneficiary partner. NYCDA is a not for profit organisation committed to helping club's like the Hornets raise as much funding as possible through its NYCDA Weekly Draw.
It is a great opportunity for the club to continue its deepening of its relationships with the local RL community, as this will help us generate even more funds for our Player Development Programme, with access to extra resources and a bigger prize fund once we get out of lockdown restrictions. Join now for as little as £1 per week and be in with a chance to win £1000s of cash prizes every week by supporting Rochdale Hornets RLFC in this way
The current prize fund has a £1000 Jackpot, additional prizes of £100, £50, £25 and 10 x £10. All proceeds from the partnership will continue to support the club and meet the aims of our the Rochdale Hornets Player Development Programme activities, particularly in its aims and objectives to be an active stakeholder in the local community.
Finally, we would like to thank you again for your support as we need it now more than ever. Keep an eye out on the website and social media platforms for upcoming news on this partnership including announcements on none cash prizes from us at Rochdale Hornets, as well as all other NYCDA partners.
For any further enquiries, including how to join and details on where proceeds go, then please get in touch using the email or phone details below:
Phone: 01706 648004
For more details about the NYCDA Weekly Draw, including full results, terms and conditions, legal info and info relating to social responsibility issues please visit www.nycda.co.uk
Rochdale Hornets is a beneficiary partner of the NYCDA Weekly Draw (Gambling Commission account no. 5166) Reg. Office: 1-2 Frecheville Court, Bury, BL9 OUF. Resp. Person: Mr M Brocklehurst For more information on NYCDA, including terms and conditions, please visit www.nycda.co.uk and National Youth and Community Development Association - Licence summary - Gambling Commission