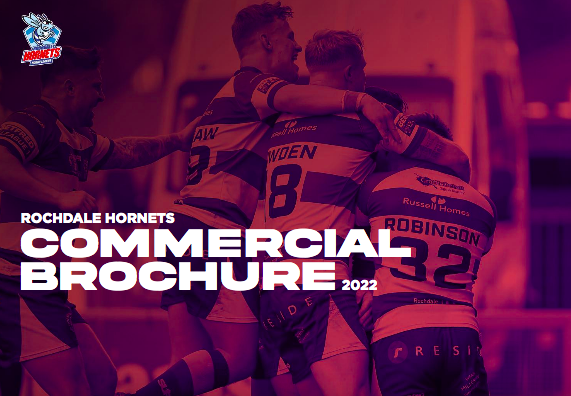 I am delighted to present our commercial brochure for 2022 as we prepare for the Betfred League 1 campaign.
This year is poised to be one of the most significant in our history as we navigate through what will be one of the most exciting campaigns ever and assemble an exciting and talented squad to launch a promotion assault.
We are also set to host an international rugby league fixture between England and Fiji in Autumn, which will be almost two years in the works by the time the first whistle is blown.
The support from our commercial partners and sponsors is vital in helping us achieve our ambitions. Having gone through a radical change in the last few years, we have developed
a portfolio of passionate and supportive partners who have backed us all the way.
Rochdale Hornets can help raise the profile of your business. Whether you're looking for brand exposure or an incredible day out with friends or clients, we have a package to suit your needs.
Join us in 2022 as we embark on another thrilling rugby league season.
To view the brochure, CLICK HERE
To view the England Vs Fiji brochure, CLICK HERE