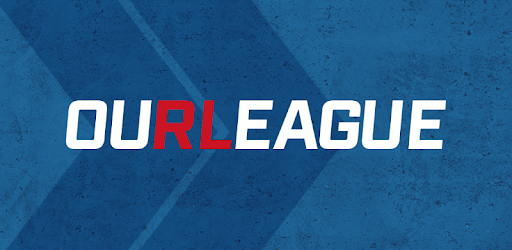 Support the club for free by signing up to OUR LEAGUE!
Click HERE to sign up or download the app on the App Store!

Season ticket holders will receive a code to view our first League 1 fixture of 2021 against West Wales Raiders, with the clash set to be behind closed doors on Sunday, May 9.
Other benefits include:
Live Streaming of Rugby League matches
Exclusive Video & News
Our League Predictor
SL Dream Team
Competitions
Vote in Polls and Player of the Match
Save points with Rewards4Rugby League
Want to know more? Below we have some frequently asked questions to help you with OURLEAGUE.
If you do not receive a code before a Hornets fixture that is being streamed, make sure you contact info@hornetsrugbyleague.com before prior to matchday to get your code, this ensures we can get to you before kick-off. If you have already sent your email, you will get a code. If you already have a code, you will not need to input your code again or get a new code to watch the game.
Once you have activated your code it will remain valid so no need to re-register again each week. You will have the option to watch the game live as it happens, or watch back later in the week. You need a unique code for each member if you want to watch on different devices.
I haven't gotten my code, what do I do?
if you have already sent an email to media@giantsrl.com, you will get your code before Wednesday's game as we're still working through the submissions, but if you haven't, mail in before 5pm to ensure that you'll get your code sent to you. You will need to email two things; your name and your account ID, which is located underneath your name on your Season Card.
Each code you get can only be used once, but once a code is redeemed, you don't need a new one.
To redeem your code
1. Ensure you are logged into your Our League account, or create one if you don't already have one.
2. Head to the Live Stream section.
3. At the top of the page, click on 'Redeem your Season Ticket Voucher Code Here'.
4. You should now have been redirected to the code redemption site.
5. Enter your code in the box which you have received from your club.
6. You will receive a 'Success' message once your code is entered.
7. You can now watch home and away games for your club via the Our League app on the 'videos' section of the app home page, or via the website. Please note you can only watch Huddersfield Giants using this service, if you log on before the Giants game it will not show you the previous game.
**You cannot redeem your code via the Our League app. It must be redeemed via the steps above***
For more advice please email ourleague@streamamg.com
Do I need an OurLeague account?
All supporters will require a free Our League account to use our Matchday Live streaming service.
Many fans will already have an Our League Account set up, which can be used to log-in seamlessly between our website and app.
You can set up your account for free – it requires only a valid email address and a few minutes to set up.
Set up your free Our League account
How can I watch?
Our League membership is accessible on desktop and mobile devices. You can view via the Our League app on the 'videos' section of the app home page, or via the website.
If you are accessing the match stream on a mobile device such as a smartphone or tablet, we strongly recommend that you do so via the Our League Official App ensuring that your App is updated to the latest version.

Can I watch the match afterwards?
After a match has been played, you can find full match replays in the following days via our main website or via the Our League app. The replay will only be available to season card holders for their home and away matches whilst matches are being played behind closed doors. The code used to validate your stream will give you automatic access to replay of these matches
Which Devices can I watch the match on?
Live video streams can be accessed across desktop, tablet and mobile devices with up-to-date browsers or via the official Our League app on mobile or tablet.
If you are unsure whether your technology will be supported, please contact ourleague@streamamg.com with your device and browser details. Your browser should be one of the latest versions of Microsoft Edge, Mozilla Firefox, Google Chrome or Safari.
Internet Explorer and Opera are not supported for Live Video.
You can check if your browser is the most up to date version below:
Google Chrome (recommended)
Edge
Mozilla Firefox
Safari – make sure your iOS device is up to date and no software updates need to be completed
Still having issues? Please email support at ourleague@streamamg.com
Can I cast the match onto my TV?
As part of our ongoing improvement of the Our League app, users can now cast their screen onto their TV via series of casting devices/Smart TV functionality.
For more information on how to do this, click here.