30 Jan 2022
Sheridan steers Hornets into the third round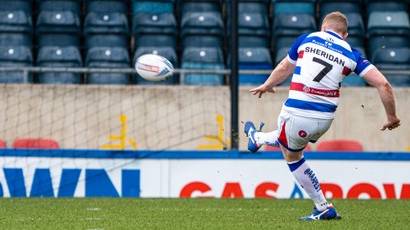 Rochdale Hornets put seven tries past the newly renamed Midlands Hurricanes on their way a to a 36-16 victory, in the Betfred Challenge Cup.
A comfortable victory over their Betfred League One rivals means that Hornets' name will be in the hat, when the third round draw takes place at the Crown Oil Arena on Tuesday.
The game was fast-paced right from the start, with Hornets showing no signs of a team that hadn't played since September.
Hornets had come close to scoring in the first five minutes, before Joe Taira fumbled a pass on the visitors' goal line.
However, Hurricanes asked plenty of questions of their own but the Hornets defence stood firm with Ben Killan in particular putting in some huge hits on debut.
This gave Lewis Sheridan the platform to score his first try of the season, skipping past two defenders and dotting down under the posts.
And the hosts didn't have to wait long for their next score either when a well-worked move saw Ben Calland score in the corner, some six minutes later.
Shortly after, a great offload from Zac Baker put Gregg McNally in for his first try in red, white, and blue after recently joining from Whitehaven.
It was then the turn of Cobi Green to score his first try for the club to send Rochdale surging into a 22-0 lead.
Hornets' momentum was then thwarted however when Luke Fowden was sin binned for a late tackle.
Hurricanes capitalised on their man advantage by scoring two quick-fire tries through Nathan Newbound and Hadyn Freeman to reduce the deficit to 12 at half-time.
Half-time offered an opportunity for Calland's side to regroup and they came out firing again in the second half.
Filling in at stand off for the injured Rangi Chase, Sheridan continued to dictate game and it wasn't long before Hornets scored again.
Cian Tyrer got on the end of an excellent Sheridan grubber kick to score his first try since making his move to Rochdale a permanent one.
Hornets seemed to be heading towards a comfortable victory once more until Taira was shown a red card for a high tackle.
The Midlanders soon capitalised with Benn Hardcastle scoring a converted try to put them within two scores going into the final quarter.
However, the 1922 Challenge Cup winners were not unsettled by this and would go on to score two more tries through Dan Nixon and Tom Ashton to ensure victory in their first runout of the season.
The win means that Hornets will be back in action on February 12/13 with the possibility of an all-Rochdale tie, after Mayfield's 18-16 win over West Hull.
Hornets: Mcnally, Nixon, Calland, Ashton, Tyrer, Sheridan, Green, Killan, Penkywicz (C), Taira, Forster, Baker, Brearley.
Substitutes: Aspey, Fowden, Davies, Roden.
Tries: Sheridan (18'), Calland (24'), McNally (28'), Green (32'), Tyrer (46'), Nixon (65'), Ashton (75').
Goals: Sheridan, 4/7.
Hurricanes: Cowburn, Freeman, M Welham, L Welham, Croston, Scott, Hardcastle, Ryan, O'Loughlin, Clavering, Boardman, Newbound, Walton.
Substitutes: Dawson, O'Sullivan, Bull, Kaufman.
Tries: Newbound (38'), Freeman (40'), Hardcastle (62').
Goals: Hardcastle, 2/3.
Half-time: 22-10
Referee: Liam Rush
Attendance: 688
Featured image courtesy of Daniel Didley.