7 Apr 2019
Match Report: Hornets vs Halifax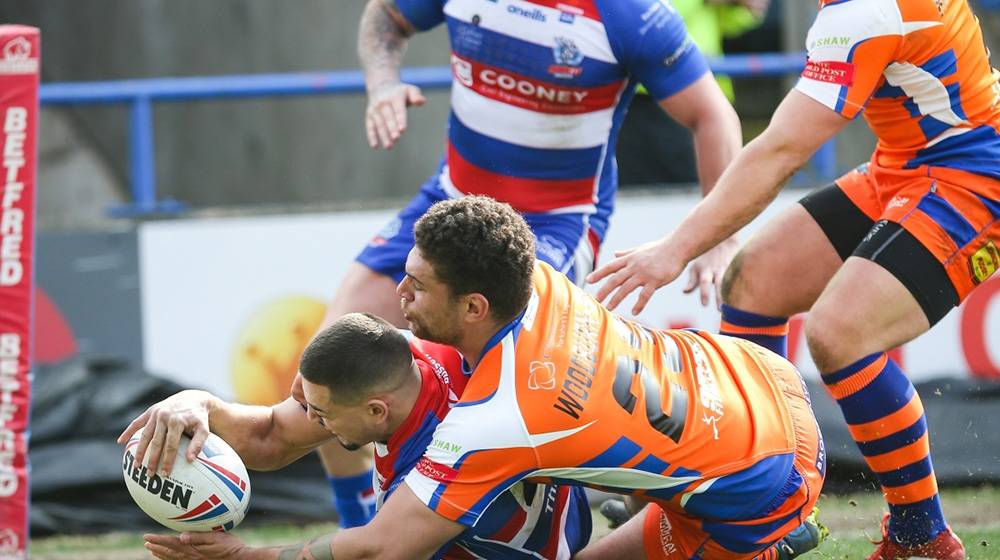 Rochdale Hornets played host to Halifax at the Crown Oil Arena in the Betfred Championship and it certainly lived up to the hype.
by Ethan O'Gorman
Rochdale got off to a perfect start, marching their way towards the Halifax line. It was Captain Lee Mitchell who crossed over on Hornets second set receiving an inside pass from head coach Carl Forster which let Mitchell stroll underneath the sticks.
Hornets maintained their early pressure forcing an error from the visitors, Dan Abram slotted a penalty over the black dot from thirty metres out to make it 8-0 and give Halifax a job to do.
However, the Fax soon hit back though after Jack Higginson was sent to the sin bin for holding on. After a well timed grubber kick from Halifax's half back Scott Murell, Stephen Tryer dived on the ball to make it 8-4.
The sin binning proved to be a catalyst for the West Yorkshire visitors as quick hands saw Stephen Tyrer found the try line once again, however, Tyrer's converstion dragged wide to the delight of the home supporters.
With thirteen men back on the field the Hornets mentality shifted and their early attacks resumed, the ball was shifted out wide to previously sin binned Jack Higginson who put on the afterburners to score in the corner.
James Woodburn Hall grabbed his first of three tries moments later when he crossed over, but he grabbed his second on the next set.
That wasn't the end of proceedings though as Hornets themselves found the try line on the hooter with Ellis Robson powering over from a short distance to make it 18-22 at half time.
Hornets applied a lot of pressure early in the second half, but it was the visitors who struck first when the ball was quickly shifted to Will Sharp on the right hand side who dived round the corner post to score.
James Woodburn Hall completed a hat trick moments later when he put in a sneaky dummy, touching down with ease.
Set after set, Halifax continued to pressure the Hornets and it paid off once again despite a valiant effort from Hornets. This time former Castleford man QLT crossed over on the left hand side to make it 36-18 to the visitors.
The visitors remained in first gear with James Saltonstall getting himself on the scoresheet for the first time.
Fax continued to work themselves through the Hornets defence, finding fullback QLT who touched down for his second.
However, Hornets head coach Carl Forster grabbed a late try for the Hornents, using his brute force to carry himself over the line and make it 24-48.
Hornets next fixture is against Salford Red Devils next Friday in Round 5 of the Coral Challenge Cup.