22 Apr 2019
Match Report: Hornets vs Eagles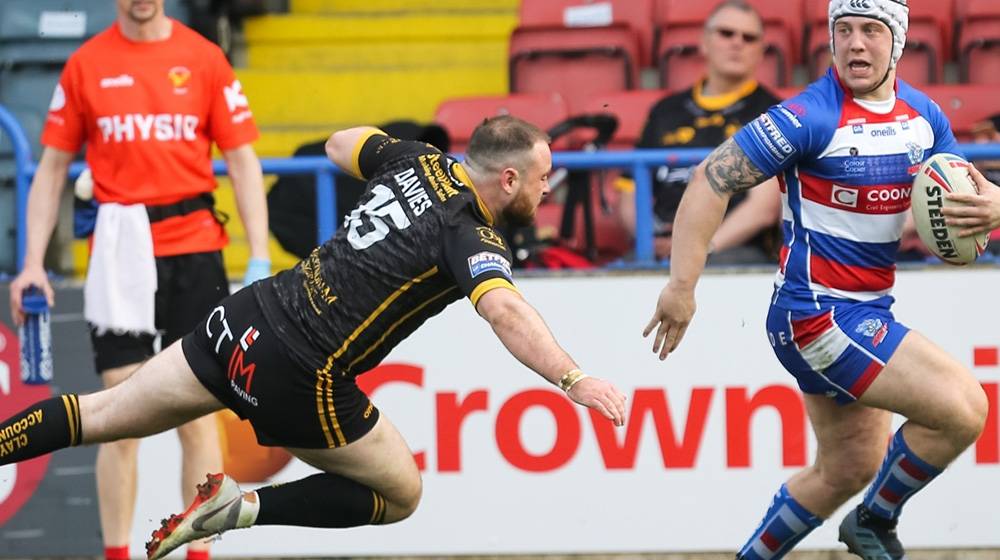 Rochdale Hornets ended their busy Easter Schedule at the Crown Oil Arena against a high flying Sheffield Eagles in round 11 of the Betfred Championship.
By Ethan O'Gorman
Tries from Carl Forster, Brandon Wood and Ben Moores were not enough as Sheffield came away with a 52-16 victory to stay third in the Championship table.
The first half could not have started better for the home side as they amounted pressure on the Eagles line forcing early errors from the South Yorkshire side. Pressure of the Eagles line paid off in the 13th minute when Carl Forster powered his way over from short range.
However, the Eagles hit back when the ball was spilled on kick off with Ben Hellewell going over for his first of two tries.
A preverbal arm wrestle was in order for the next 13 minutes with both sides getting stuck into each other. But it would the visiting Eagles faithful who would be celebrating when James Glover found the try line to give Sheffield the lead.
Back to back tries followed late on in the first half for Sheffield with Patrick Walker and Ben Blackmore both finding the line.
Half Time: 6-22
The second half started much like the first with the Hornets applying pressure however ball handling mistakes proved costly.
It took 18 minutes for the first points of the second period to arrive when Ben Blackmore went over for his second of the afternoon followed shortly by Hellewell who went over for his second also.
The Eagles inflicted more pain on the Hornets soon after when James Glover crossed over for his brace as well.
However, the Hornets scored the try of the game when quick hands found Brandon Wood out wide who himself managed to put on the afterburners to touch down.
Mark Aston's Eagles then put the nail in the coffin when Pat Moran and Sonny Esslemont crossed over, but Hornet's Ben Moores scored a consolation try on the hooter to make it 52-16.