29 Apr 2019
Match Report: Bulls vs Hornets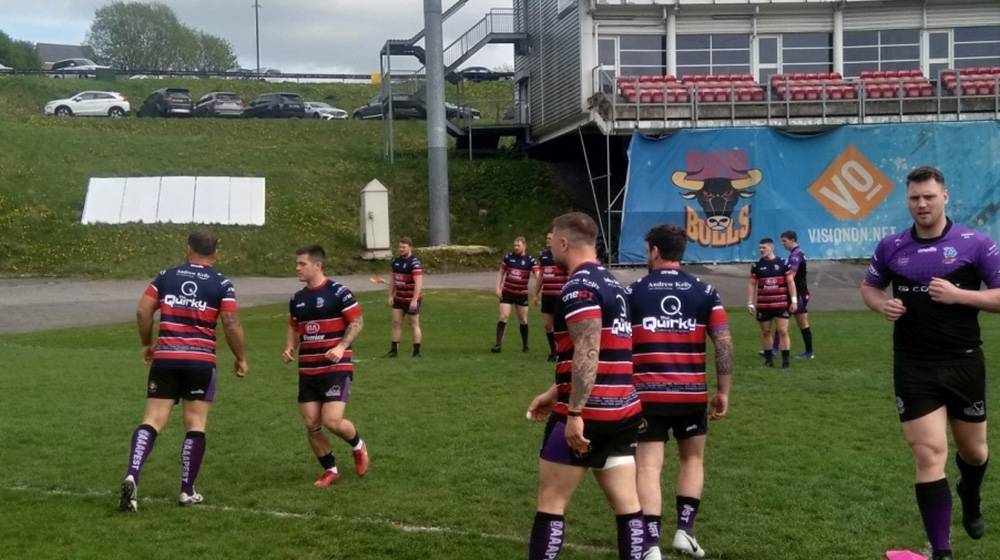 Rochdale Hornets travelled to Odsal in round 12 of the Betfred Championship to take on the Bradford Bulls.
By Ethan O'Gorman
The Hornets 2019 Championship campaign continued against the Bradford Bulls at Odsal, and they left West Yorkshire with their heads held high despite a 52-16 defeat.
Rochdale came out onto the Odsal pitch with determination and they certainly proved that when halfback Dan Abram produced a piece of magic side stepping two Bulls defenders and aiming a pin point pass to Ben Moores who went over to give the Hornets a 4-0 lead with Abram converting to make it 6-0.
Stonewall defence from the visiting Hornets denied Bradford multiple times, however, they caught the Bulls out with Ellis Gillam finding his way over to extend Rochdale's lead to 12-0.
However, the home side did not give up when captain Steve Crossley and debutant Thomas Doyle crossed over for his first of two tries.
The Hornet continued to show first half dominance using their quick speed and agility to ship the ball out wide to winger Brandon Wood who went over in the corner to give Rochdale a 16-12 lead as the half time hooter sounded.
It was the home side who started the second half the better, with the Bulls gaining a penalty close to the Horents line with Ross Oakes shifting his weight over the line.
Momentum stayed with the home side as Thomas Doyle went over for his second debut try of the afternoon, this was quicly followed by Ethan Ryan going over for his first of an impressive hat trick.
The Bulls kept on punishing the Hornets despite valiant efforts by the defence, captain Steve Crossley soon crossed over for his brace before Ethan Ryan crossed twice more.
Dalton Grant then put the nail in the coffin to give the Bulls the two points, however the Hornets can certainly take positives from their performance as they now prepare to take on Featherstone Rovers on the 5th May.
BRADFORD BULLS: Ethan Ryan, David Foggin-Johnston, Jake Webster, Ross Oakes, Dalton Grant, Jordan Lilley, Rowan Milnes, Liam Kirk, Matty Wildie, Steve Crossley, Matty Storton, Connor Farrell, Elliot Minchella. INTERCHANGES: Thomas Doyle, James Green, Colton Roche, Mikey Wood.
TRIES: Crossley (21,66), Doyle (30,56), Oakes (52), Ryan (61, 69, 71), Grant (76)
GOALS: Minchella 8/9

ROCHDALE HORNETS: Declan Kay, Jack Johnson, Ben Morris, Setareki Talatoka, Brandon Wood, Scott Moore, Daniel Abram, Jack Cottington, Ben Moores, Liam Carberry, Ellis Gillam, Lee Mitchell, Luis Johnson. INTERCHANGES: Ryan Millington, Nathan Reidy, Danny Walker, Joseph Ryan.
TRIES: Moores (6), Gillam (9), Wood (38)
GOALS: Abram 2/3