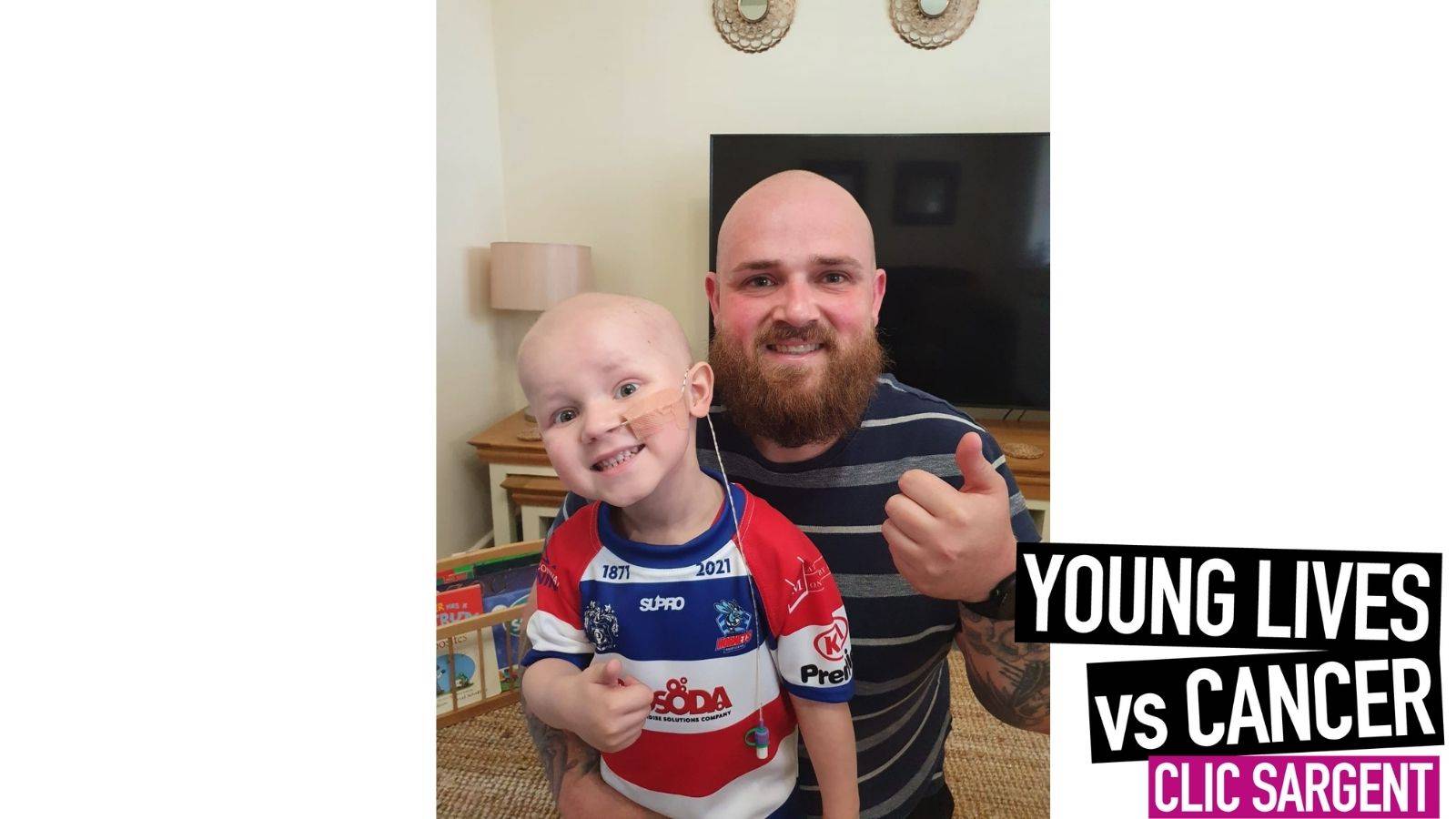 CLIC Sargent has become the club's official charity partners in support of Thumbs up for Freddie.
This partnership will see the club and All Hornets support CLIC Sargent and Freddie, who was diagnosed with rhabdomyosarcoma, a rare type of cancer in the nasal area, and has inspired many on his journey.
The club will add a donation button to our ticketing platform, allowing fans to make a donation when purchasing club tickets and products. We will also support CLIC Sargent and Freddie's fundraising page, with All Hornets set to host fundraisers and bucket collections on game days in support.
Chris Lowe, father of Freddie, said: "In November 2020, Freddie my three-year-old son took poorly, he was diagnosed with rhabdomyosarcoma, a rare type of cancer in the nasal area. When Freddie was initially in hospital because of the COVID-19 pandemic, we had to take turns to be at his bedside. Freddie started on a nine-month course of chemotherapy which continues as I write this, he has also undergone 28 sessions of proton radio therapy each one under general anesthetic, along with several other treatments.
"Freddie, who is the most precious person in our lives being so poorly, made both myself and Hazel (Freddie's mum) feel helpless and initially lost and alone. Both Manchester Children's Hospital and the Christie have been fantastic with such a dedicated team providing all the help and support they can. However, the fight against cancer and the support for families who have children with cancer cannot be sustained by the NHS and this is where the charities play an essential role. Charities like CLIC Sargent who are dependent on fundraising to provide the ongoing day to day support to people who genuinely need help.
"In the early days of Freddie's illness, I watched this and decided I would do something to help raise some funds, I signed myself up to the Manchester marathon and started a fundraising page. My dad is also running the marathon with me and I am really proud of the challenge he has taken on and proud to have him at my side for the event. Obviously family and friends were keen to get involved with sponsorship and support, for which I am extremely grateful. I also have a passion for rugby league, being a supporter of a local team, this being Rochdale Hornets. After several of my social media posts I was approached by the senior management at Rochdale Hornets who have been supportive of Freddie, myself and CLIC Sargent. This support has grown to a level where Rochdale Hornets have now selected CLIC Sargent as their charity for this season with collections being made at games and on line when purchasing merchandise or tickets.
"We never imagined we would be faced with an illness like this affecting Freddie, and we only really learned about CLIC Sargent through our misfortune. Having the incredible support of a club like Rochdale Hornets both helping fundraise but also promoting the essential work that Clic Sargent provides, it not only raises immediate support, it also helps promote the work of CLIC Sargent ensuring the charitable services are sustainable for the future.
"My thanks go to CLIC Sargent for their help and to Rochdale Hornets for their support at a time when it was really needed."
Club CEO Steve Kerr said: "Freddie is one of our newest fans at Hornets and on hearing of Freddie's fight against cancer we jumped to support with donations, but as we've got to know Chris and Freddie we've been inspired by his courage and bravery. Supporting Freddie and CLIC Sargent is something we wanted to do because when one of us struggles we all struggle, Hornets is our family and so I'm incredibly pleased to announce that the 'Thumbs up for Freddie' appeal and CLIC Sargent will be our official charity in 2021.
"We've added a donation button to our future ticketing platform allowing fans to donate, with all proceeds going to the appeal. We'll also be organising some 'Thumbs up for Freddie' merchandise and encourage fans to purchase when these become available. Our players and staff have really bought into what we're going to do for Freddie and so I'd urge all fans to get involved."
All Hornets, the official supporters association club, will also support with fundraising initiatives and vice chair Kevin Tatlock said: "I am in conversation with Morrisons, whose charity is CLIC Sargent to possibly do a few bag packs with All Hornets members and players.
"Coincidentally, Morrisons is the site of Hornets' old ground, so with it being our 150th anniversary it would be very nice to do something with every one and raise money for CLIC Sargent, and also COVID-19 permitted, to hold bucket collections at the turnstiles, raffle tickets and hopefully more."