13 Jan 2019
Match Report: Hornets vs Mayfield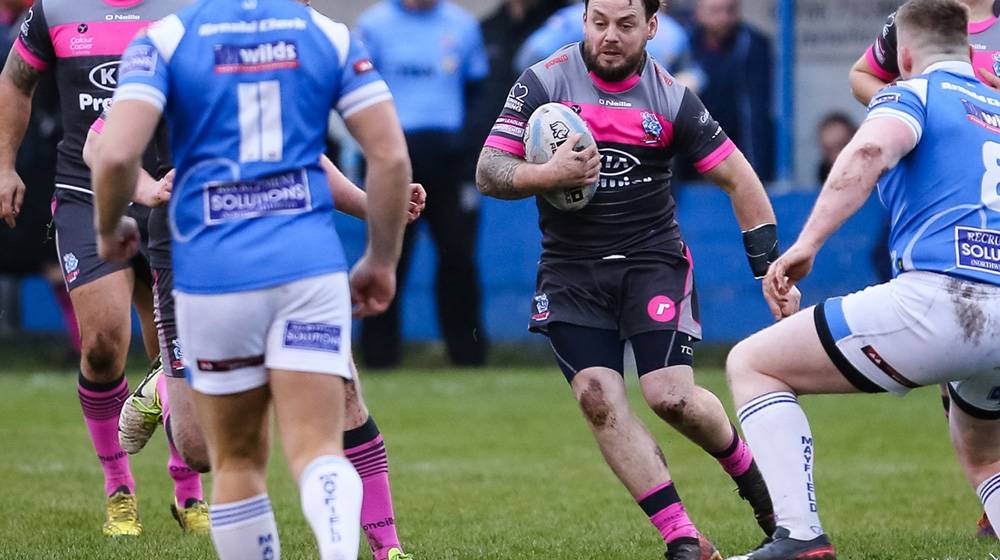 Rochdale Hornets survived a resilient Rochdale Mayfield comeback to win the inaugural Stephen Gartland Trophy with a 18-12 victory.
By Ethan O'Gorman
Tries from Seta Tala, Callum Wood, Brandon Wood and newly appointed club captain Lee Mitchell saw Rochdale Hornets pick up the inaugural Stephen Gartland Trophy.
As the rain lashed down on the Mayfield turf both sides came out of the sheds with energy and the warning signs of a close game could be seen early on.
However, it was the Hornets who would get on the scoresheet first when big man Seta Tala went over in the corner following a string of quick and effective passes that left the Mayfield defence confused.

Both sides continued to give their all throughout, but the Hornets were applying the most pressure and their strong defence kept out several attacking plays by Mayfield.
England academy representative Callum Wood scored the try of the game off of an inside pass and a side step later he was across the line to make it 8-0 with Tyler Whitaker adding the extras.
Mayfield who finished 8th in the NCL last season hit back shortly before half time when Zak Hartley barged his way through a so far sturdy Hornets defence.
The weather continued it's toll on an already error ridden match, but it was the host's who struck first after half time when man of the match James Connaughton used his brute strength to give them the lead on 44 minutes.
Their lead didn't last long as Brandon Wood crossed over after picking up a well placed kick from Stu Howarth to make it 12-14.
Carl Foster's side then sealed the game just three minutes later when captain Lee Mitchell went over in the left hand corner for the final points of the game after a progressive march up field by the young Hornets side.
Hornets Team: Tyler Whitaker , Shaun Ainscough, Ben Morris, Seta Tala, Brandon Wood, Scott Moore, Elliot Jenkins, Jack Cottington, Dec Gregory, Liam Carberry, Ellis Gillam, Mike Weldon, Ryan Millington.
INTERCHANGES | Callum Wood, Joe Ryan, Nathan Reidy, Stu Howarth, Dan Abram, Lee Mitchell, Jordan Case
Tries: Tala (8) C Wood (24) B Wood (49) Mitchell (52
Goals: Whitaker 1 / 2 Abram 0/2
Mayfield Team: Zac Baker, Mark Biggins, Lewis Butterworth, James Connaughton, Cameron Corcoran, Wayne English, John Foy, Tom Fitsimmons, Aidan Gleeson, Nick Hargreaves, Zak Hartley
INTERCHANGES | Ieuan Higgs, Shaun Hurley, Callum Marriot, Jack McConnachie, Simon Moore, Sean Mulcahy, Joe Muir, Munya Samanyanga.
Tries: Hartley (34) Connaughton (44) Goals: Sheridan 1/1 Hartley 1/1